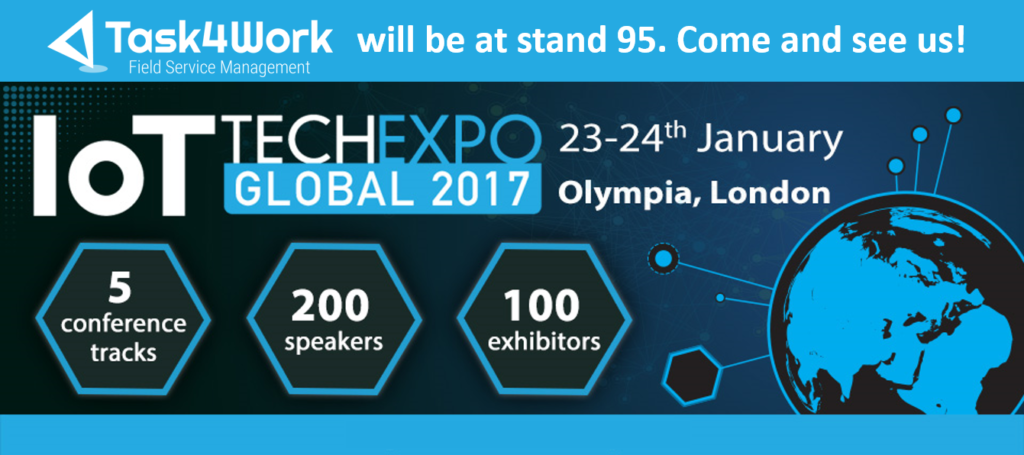 Following the successful experience of the IoT Solutions World Congress last October in Barcelona, we will be with Task4Work at the IoT Tech Expo in London next 23rd and 24th of January.
Key companies from all around the world will attend the event, where participants from the entire IoT industry are expected with representatives from a wide range of sectors such as manufacturing, transportation, health, automotive, logistics and energy, among many others.
More than 200 expert speakers in the field will meet at the IoT Tech Expo in London, presenting their case studies, sharing their knowledge and telling us their experiences. Likewise, the most advanced technologies will be shown in more than 100 exhibitors that make up the event, including Task4Work at stand 95. There, we will perform 'in-situ' demos, explaining what Task4Work is and responding to any question that may arise.
This year's exhibition highlights the most innovative advancements in technologies that affect the entire IoT ecosystem.
Within that ecosystem is Task4Work, which -based on Google technology- is an application that optimizes the field workers management from any device and place. You can plan jobs and assign tasks efficiently, analyze all relevant information and reduce your operating costs.
Find out how to improve your customer's satisfaction thanks to this customizable, scalable and 100% cloud application.
If you want to know more about Task4Work and how it can help you to reduce your operating costs, just let us know.
Get your ticket for the IoT Tech Expo in London on 23rd and 24th January here. The entrance to the exhibition is free; see you at stand 95!
Task4Work at the IoT Tech Expo in London