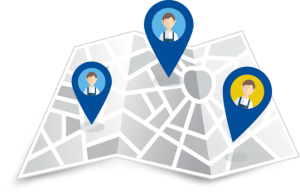 If organising  your Field Service team is a difficult task you face on a daily basis; if you want to optimise costs and improve customer service, we have a proposal that will suit your needs.
We shall be talking about another type of mobility, true mobility. The mobility of your Field Service Team.
In this case, mobility can become a genuine headache for many intermediate managers who have to organise the tasks of a workforce that is always on the move. These are the travelling workers from many business sectors: installers, technical services, delivery people, surveyors, appraisers, health care staff…
Routes, shifts, agendas, in-house staff vs. outsourced, our staff's skills / specialities / expertise. We must find the perfect formula to make all the parts fit. And the puzzle changes from day to day. Even during a day. We have to consider every unforeseen aspect, from traffic, transport breakdowns, sick leave of a member of the team and, of course, urgent calls.
These intermediate managers have a name: dispatchers or team coordinators, but they are really jugglers trying the balance everything every day to match tasks to resources, and under the permanent pressure of having to optimise costs through the ideal allocation of resources and to improve customer service on a daily basis.
What if we had an IT tool that was actually designed to help us in this task? And what if it could combine intelligence, control and speed? At Intelligence Partner, we have been developing a response to this problem for a long time and the result has a name: Task4Work, our Field Service Workforce management solution.
It has been designed to handle a wide range of tasks, integrating parameters such as locations, workers' capabilities (or skills), the need for specific machinery, service-level agreements, the need of spare parts, workflow, or the categories of the tasks provided (scheduled or urgent). It is an intelligent tool capable of combining all this with locations, shifts, agendas, skills and knowledge, different organisations and the point of origin of the resources (in-house or outsourced).
With this tool, coordinators can manage more workers at a time, increase the number of daily tasks that each worker can perform, reduce travel time between tasks, optimize resources and reduce costs, identify staff training and improvement requirements,… help make the best decisions thanks to the reports generated and, in short, improve customer satisfaction.
Sound good?
Naturally, this is a solution conceived and designed to work permanently in the cloud, and as it has been based on the Google Cloud Platform and Google Maps, it provides the following benefits: scalability with unlimited storage, availability at any time and place, total security (whether for access or backups) and we have left the best for last: it does not require any investment.
If you would like to see how it works, you can try it out for free or contact us with no obligation. We shall be happy to show you real examples and we are sure you will be able to identify with one of them, or several or perhaps all of them.
Do you regularly find it difficult to handle your Field Service Team? You no longer have to do a juggling act to balance tasks and resources.