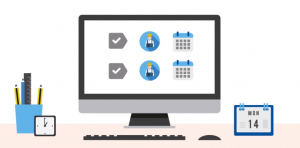 We shall pretend to be a Field Worker for one day, specifically a lift maintenance technician for a day. Let's see what his workday is like with the assistance of Task4Work. Now, working better only depends on the skills of the field worker.
After using Task4Work I struggle to think what it would be like to work "like before" in many scenarios for a Field Worker… And we can put ourselves in the place of a dispatcher and of a field worker, who has to struggle every day with the traffic and the incidents that arise in order to do his job. From either of the two perspectives, the change that this solution provides is really significant.
Let's consider a day using Task4Work and then think about how we work, what we are missing by not having this tool and the tangible benefits that it might bring to our business.
As an example, we shall use a normal day in the life of a field worker from a lift maintenance company. Let's start with him, his workday…
My job is to repair lifts; therefore I have to take along the necessary material for each type of job and each model of lift. I occasionally do preventive maintenance tasks, too; but I am better at the former and my head and the recommendation engine know this when it comes to assigning tasks.
09:00
I start the day directly without having to go to the office. I can take the company vehicle home, already prepared from the previous day with everything I need for today, the optimal route has been planned to allow me to save quite a bit of time at the start of each day by not having to go to the central office or to ask about the details of the central or having to ask my area coordinator about the details of the tasks I have to perform. It's all on my mobile phone. My only concern is having charged the battery so that I can view the planned route for today. However, if it runs down, I can connect it to the car's cigarette lighter.
My work area if extensive, but the coordinators at the office (who have information on the status of each task, our technical availability, and the possibility of calculating the optimal route) are responsible for assigning the work among the technicians and areas, in such a way as to make our routes as short as possible. In addition, they take our "skills" into account, in such a way that our work is assigned based on the most optimal route but also on the basis of what each one of us is really good at doing.
09:30
I arrive at the offices of my first customer just as they are opening for the day. My schedule already indicates the type of lift and the characteristics of the problem and, therefore, I am ready and I have the parts that are usually needed. After checking in at reception, I start working on the tasks I have been assigned.
09:55
I have just finished the first visit of the day. I note the tasks I have done in my mobile phone, linking them to our customer's file and I mark the visit as resolved. Now, from the office and in real time my dispatcher can see that I have finished my task. The field workers no longer need to depend on phone calls to report this or for them to assign another job. I set off for my next visit.
10:15
I arrive at my next job. It is a block of flats. My dispatcher has organized the visit for a later time to avoid the rush hour of people leaving to go to work or to school first thing in the morning. Now I can work without hardly bothering any of the neighbours. This is what he calls Customer Satisfaction, and he must be right. Not just because he is my boss… 😉
11:00
I get a call from the office because there has been an urgent call from a customer in our area whose lift has broken down. The dispatcher can see the map of the area on his computer and he knows who is the closest as well as our level of availability to deal with the emergency. In fact, he can easily move the task that I had been scheduled to do, and move it to a gap I have available for tomorrow.
The map of the area (based on Google Maps), displays not only our locations, but the resolution status of the tasks that have been planned for the day. As I mentioned above, when we finish a task, we use the application to indicate that it has been completed. If something cannot be completed, it can be arranged for the next visit.
The day continues as planned and, luckily, there have been no further changes to my schedule for today. I would have known along the way.
18:00
My day ends. Today, I do not have to go to the office because I do not have to replenish any spare parts in the van for tomorrow. I don't have to deliver any work reports because everything can be taken from the application. My dispatcher can view the joint calendar of all the workers and easily assign tasks to each one of us. This calendar enables him to see our availability (including holidays), our profile (to assign jobs). Combining all the data, he can assign tasks quickly.
My colleague field workers have told me that we are going to have our terminals replaced tomorrow… Some of us use tablets (I find them more comfortable as they have a bigger screen) and others use mobile phones. The ones we have are not bad, but they are rather worn by use. Fortunately, the change is immediate…we can start working immediately as soon as the battery is charged. All we have to do is connect to the Internet, without having to install anything special, except the Task4Work App from the Apple Store or Google Play, of course.
By the way… I started this text by mentioning traffic problems. I must not forget to mention that, as Task4Work is based on Google Maps services, I can also receive information on traffic and they can recommend alternative routes. Another point in its favour.
For more information or to get a free trial, please contact us.
How would be a Field Worker day without Task4Work?